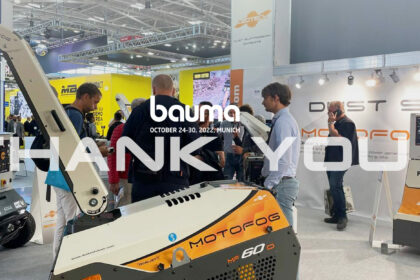 At the end of very rewarding year, BAUMA 2022, held in Munich (Germany), kept its strong appeal, representing the most important international event for the costruction industry. BAUMA 2022 has been a complete success for LEOTECH.
An amazing edition: companies and people from all over the world and a great interest in LEOTECH's innovative solutions for dust suppression.
LEOTECH exhibited its whole range of dust suppression machines, introducing many news, allowing the operators to appreciate live the manufacturing quality, the design, the innovation, the uniqueness and the features of each solution.
In particular, we showcased the upgraded versions of MOTOFOG MF60 D and MF10, the brand new MOTOFOG MF20/40 D, the RFA 20/40 electrically powered and now with a much more compact frame, easier to handle and transport, the super-compact MOTOFOG MFX with petrol engine, which was introduced in 2021.
It was also the occasion to show for the first time the unprecedented and long awaited ROTOFOG RFW 60, an innovative and brand new electrically powered unit.
LEOTECH wishes to thank all the people who came and visited our booth during BAUMA 2022.
Thank you all!