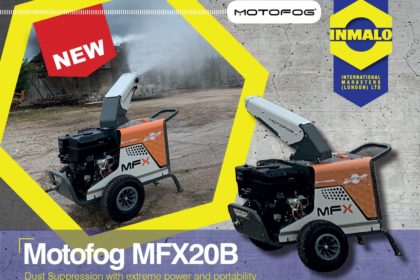 We are really excited to announce the arrival of the NEW Motofog MFX20. This small and highly manoeuvrable unit packs a punch with an array of features and mounting options including on excavator booms. It easily pops in the back of a small van and can be deployed in seconds to mains water or an IBC tank. With 189 degree oscillation, twin jet spray options and a remote control, this is a compact solution for dust control in wide or confined spaces.
The all new MOTOFOG MFX20B takes portable dust suppression to another level with multiple mounting options for both small vehicles and excavators dip.
3 Options
Stand-alone unit, that can be sited anywhere, including on an excavator for dipper dust suppression.
Wheeled unit for superb manoeuvrability around sites and yards. Fits into small vans with ease.
IBC framed unit for fully mobile dust suppression, haul roads, quarry faces etc.
Specification
20 – 25m Throw
Run from mains supply or draw
from a tank
Water Consumption 20-24L/min
180 degree oscillation
Remote control (option)
Wheeled unit or mount to an IBC
Onboard petrol engine
Easy to transport in a van
Dual jet nozzle